So, how did it go? Your Thanksgiving dinner, that is.
Did your guests "woooo'd" and "ahhhhh'd" at your fabulously delectable dishes? Did they wobble outta your house after saying "Uncle!"?
For me, it was very special because Andrew came home for Thanksgiving from college, after being away from home for the first time for three months. Emily and I worked on making his favorite as well as some of ours. And we discovered something very new and special this year, something that we will make whenever we have cravings for some homemade goodness.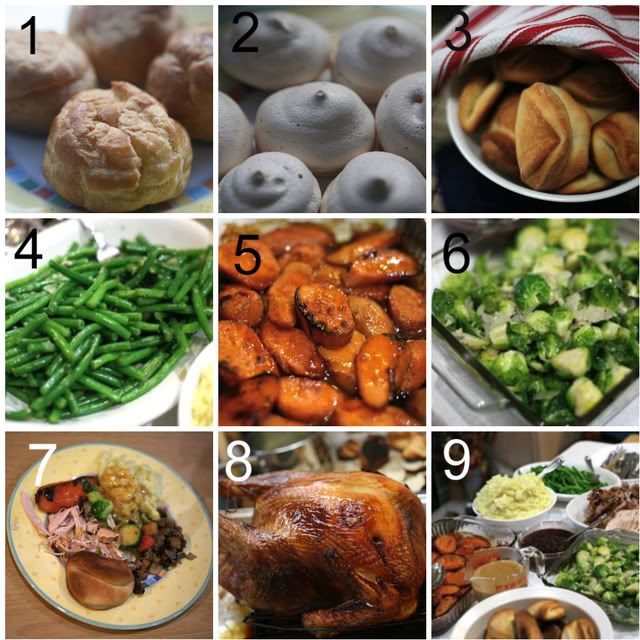 Emily made Andrew's favorite – Cream Puffs filled with gloriously rich cream that just melted in our mouths. Yes, we had some even before he came home. *Shhhh….What he doesn't know won't hurt him.*
Emily also made her favorite, Meringue Cookies – yes, pure sugary sin. But heavenly.
Emily and I baked these newly discovered Parker House Rolls from The Pioneer Woman These soft and fluffy rolls tasted so much better than they look in the picture.
These aren't your Grandma's string beans. Crunchy greenies sauteed in Chardonnay with lots of garlic. Sweeeet!
Candied Yam with maple syrup and brown sugar. Need I say more?
Brussel Sprouts – oh goodness. One of our favorite veggies.
Platter of a very hungry guest with apple walnut stuffing, gravy from scratch, mashed potatoes and Orange Cranberry Chutney (not pictured in the collage).
Organic turkey from Hemlock Hill Farm. Yes, it was a whopping 21 pounder.
Thanksgiving Buffet. We don't do sit down dinners because I never know how many are showing up for my Thanksgiving Dinners. So I gave up on setting tables. I put all the platters on the table and people grab what they want to eat. Simple. No passing this and passing that. Just eat what you want and get 'em yourself. It works. And do you see my Pyrex measuring cup? It doubles as my gravy boat. Why? Because I can.
Needless to say, my fridge is still full of food.
But don't worry. I have a plan. Actually, this was my plan all along because it's a tradition in our house to eat Turkey Enchilada Casserole the day after Thanksgiving. This casserole will undoubtedly use up all the leftover turkey. It has a nice little spicy kick to it that it will dissolve any gastronomic guilt you've experienced since Thursday. Oh, you don't eat turkey? You can substitute with chicken too.
Turkey Enchilada Casserole
Prepare the ingredients as directed and add all the ingredients and mix 'em all up in a large bowl. And line the lidded casserole dish with corn tortilla strips on the bottom. You can also line the sides too if you'd like.
What's great about this dish is that you can use up dry meats and bits and piece of meat that fall into the roasting pan while cooking the turkey so every bits are used up! And as with my other recipes, I tweaked the amounts of the ingredients as I go along. Isn't that what's so exciting about cooking? Experimenting with ingredients? I say, 1/2 C of chopped Jalapeno peppers but if you don't like it too spicy, then, use less. I also added some ground Chili pepper but you don't have to use it if you like it milder. It's all relative.
Now layer the ingredients.
1.Corn Tortilla. 2.Filling. 3. Shredded Cheddar Cheese. 4. Corn Tortilla 5. Filling 6. Cheddar Cheese
Now, cover the casserole dish and bake it at 350 ℉ for 45 minutes and voila! I mean, "Muy Bueno!"
One little caution. Make sure to put the casserole dish on a cookie sheet to catch any drippings from the overflowing melting cheese. It will save your oven and prevent your smoke detector from going off.
By the way, this casserole tastes sooooo much better the next day. Enjoy!
Turkey Enchilada Casserole
2 C. Diced cooked Turkey (or chicken)
30 Oz.Enchilada Sauce
1 ½ C. Diced onions
1 Tbsp Minced garlic
1 10 oz. Cream of Chicken Soup
1 C. Chopped Black Olives
1/2 C. Corn
6 Corn Tortillas
1 ½ C. Cheddar cheese
¼ C. Diced cilantro
1/2 C. Diced Jalapeño peppers to taste
1 Tbsp Chili Powder (optional)
Combine Enchilada Sauce with turkey, onions, olives, cream of chicken soup
Cut tortillas into strips. Use half to line bottom of 9X9 1 ½ qt. Casserole dish.
Pour half of filling. Cover with cheese and remaining tortillas. Pour on rest of filling and top with remaining cheese.
Cover and cook for 45 minutes at 350 degrees.
Let stand for about 15 minutes before serving.
Serve with hot corn bread