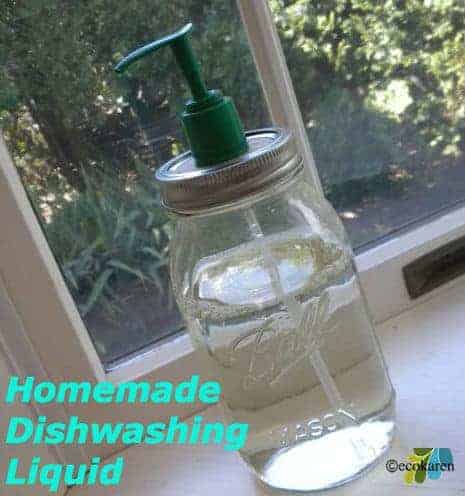 As you might have guessed, I'm on a Castile Soap kick lately. I use it in my Dishwasher Detergent that makes my glass squeaky spotless clean and my wonderfully scrubby Soft Scrub. I think my upstate friend would be very jealous at how spotless my glasses come out. She has hard water and she says she has to use detergents with phosphate to make her glasses spotless. I wonder if my home made formula would make those spots go away.  Hmmm….must tell her to try.
Anyway, I wanted to tell you how to make dishwashing liquid using castile soap. You know that it's greener to wash your dishes in the dishwasher since it uses less water but there are pots and pans that don't fit in my dishwasher – although I remember one professional chef saying that he never buys pots and pans that do not fit in his dishwasher. (Yes, he must have one ginormous dishwasher!) – and "wash by hands only" items like wine glasses and china.
So here is the formula I use.
Dishwashing Liquid with Castile Soap
1 1/2 Cup Water
1/2 Cup Liquid Castile Soap
1 Tbsp Washing Soda – to thicken the soap
Mix gently and store in your upcycled glass jar soap dispenser. And you are good to go!
How easy was that? I use this for washing dishes and washing hands. Since Castile soap is made with vegetable oils, there are no harsh chemicals to irritate your skin. You can wash dishes until the cows come home without ruining your prettyful nails!
UPDATE: I just bought Dr. Bronner's Almond Castile Soap for the kitchen and I LOVE the smell. It's more in line with the kitchen aroma than the Lavender or Peppermint or Baby Mild that I've tried. I'll try the Citrus one after I run out of this bottle, which might be for awhile. So it's a good thing that I like this Almond smell.
UPDATE #2: I am not sure if I like Castile soap for washing dishes by hand. For some reason, it leaves a little bit of film on my utensils and dishes. But the dishes from the dishwashers don't. So I am thinking, that vinegar must help the rinsing part when I use the dishwasher but since I don't use vinegar to rinse by hand, the filmy feeling is left on the dishes. Hmmmm……I may need to go back to researching the formula for hand washing. The jury is out on this one. (December 10,2011)
STANDARD FTC DISCLOSURE: Dr. Karen may receive monetary compensation or other types of remuneration for my endorsement, recommendation, testimonial, reviews and/or link to any products or services from this blog. Please be advised that I only endorse products and services that I believe in and what I think are valuable my readers. I am also a participant in the Amazon Services LLC Associates Program, an affiliate advertising program designed to provide a mean for sites to earn fees by advertising and linking to Amazon.com. You will pay the same price for all products and services you purchase. Thank you for supporting this site!