Cleaning your house can be time-consuming. However, being busy should be an excuse to keep your home's pristine condition. After all, there are cleaning hacks that you can do to keep your house clean.
Here are 15 cleaning hacks that you can bring out from your bag of tricks while cleaning:
Sanitize garbage disposal with lemons
Lemons are acidic, which means they will help break down the food particles accumulated in your garbage disposal.
Fill your sink with hot water and add a cup of lemon juice. Put the disposal stopper in the drain and turn on the cold water to fill the sink. Once complete, turn off the cold water and let it sit for a few minutes before turning on the hot water again.
This will help loosen up any gunk that may be stuck in your pipes, as well as cleanout your garbage disposal. Turn off both hot and cold water once you are done with this step.
Add a cup of baking soda to the drain and a cup of white vinegar, which will help balance out any excess acidity from using lemons.
Clean mirrors using vinegar and newspaper
There are many ways to clean mirrors. However, vinegar and newspaper are the best way to do it when cleaning mirrors.
First, take a cup of vinegar and pour it on the mirror. Next, take a paper towel or newspaper and wipe the mirror until it's clean. You can also use a cloth or sponge, but a paper towel or newspaper is better for this task because they don't have anything on it that can scratch the mirrors.
Aside from that, it doesn't separate in a way that leaves behind lint on the mirror glass.
Microwave your sponges
Using sponges is a great way to clean up messes in the kitchen, but they can also harbor bacteria. This is why it's important to disinfect them periodically.
A microwave is a straightforward way to disinfect sponges.
Put the sponge in a microwave-safe dish with about 2 cups of water. Cook for 2 minutes on high or until the water boils, then cool before using.
The microwave is a great way to clean and disinfect your sponges because it's quick and easy.
Unclog your sink with baking soda
Baking soda is a household item that you can use for multiple things, such as cleaning and baking. For this, we will be using baking soda for a cleaning hack or task such as unclogging your sink.
The process is simple.
In your kitchen sink, pour one cup of baking soda into the drain and wait for a few minutes.
Next, pour one cup of vinegar and let it sit for a couple of minutes. Next, pour down boiling water and flush it with more hot water.
Leave it overnight and let the water run through in your sink the next day. This is to ensure no more clogs in the pipes.
Clean your oven with salt
Using salt is one of the most popular and inexpensive methods to clean an over.
You can use a damp rag and salt. Sprinkle some salt on the wet cloth and scrub the oven. The mixture of water and salt will form a paste that will help remove grease, grime, and any other food residue stuck on the oven's surface.
Salt is one of the most effective cleaning agents because it's inexpensive, readily available, and safe for all surfaces. It also doesn't cause any damage to your appliances or leave behind any unpleasant odors like vinegar or lemon juice can do.
Keep in mind that this method is unsuitable for all ovens.
Some ovens have a self-cleaning cycle where you can put in salt and let it do its job. But if your oven doesn't have this feature, follow the steps above.
Remove burned-on food from pans with dryer sheets
It is a common problem that we often find burnt-on food on the bottom of our pans. You can use dryer sheets to remove this burnt food from your pan. Here are the steps to follow:
1. Put a dryer sheet in the pan and put it on low heat for about 10 minutes.
Remove the dryer sheet and scrub with a spatula or dish brush.
Rinse off any remaining residue with hot water and soap, then wipe it down with a clean towel.
Deodorize your cutting board with lemon and salt
Cutting boards can be a breeding ground for bacteria. To prevent cross-contamination, it is essential to clean them out regularly.
To clean the board, scrub it with baking soda and water paste. After you finish scrubbing, you should sprinkle salt over the board and add some lemon juice to the mix.
After a few minutes, wipe it with a cloth moistened in hot water and dish soap, and then let it dry.
Buff any stainless steel item with olive oil
We should never use chemicals when polishing our stainless steel items, even if the label says that it's safe. Chemicals can be a health risk, and we should always look for a natural alternative.
There are various ways to clean and polish stainless steel items, but it is imperative to know what you're doing and only use safe methods.
One of the common ways to clean and polish stainless steel is olive oil. This solution offers a cheap and easy way to restore the lustrous surface of chrome and stainless steel items.
You can use a paper towel damped with olive oil to wipe down the entire surface of the stainless steel item that you need to buff. Use a dry towel to wipe it away afterward.
Use a potato to scrub your cast iron skillet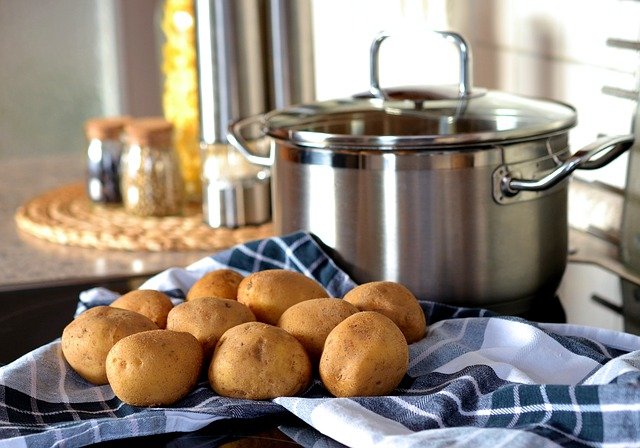 Cast iron skillets are beautiful and functional, but they come with a few downsides: They can be heavy and difficult to clean. Surprisingly, a potato can help you out.
Cut off the ends of the raw potato, put them in the skillet, and scrub away at all of those hard-to-reach crevices.
Potatoes are great for sticky or oily messes, and you can use them to scrub any material, not just your cast iron skillet. The skin helps clean away stubborn food residue and grease.
Wipe LCD screens with coffee filters
Coffee filters are a great way to clean your LCD screen without damaging it. They are soft, lint-free, and work well on screens of all types. Use it to wipe and add water when wiping again.
The coffee filters are also reusable, so they don't need to be thrown away after one use.
This method is effective because the coffee filters will not leave any residue behind, and you can also use them to clean other surfaces.
Make your laundry brighter and cleaner with baking soda
Laundry detergents are expensive and can cause skin irritation. Baking soda is a cheap alternative to help you make your laundry bright and clean.
This technique is not new, but it has gained popularity recently because of the environmental benefits.
Mix the baking soda in a bucket of water and pour it into the washing machine before doing your laundry. Make sure to add some fabric softener too.
Fight mold and mildew with vodka
Vodka is a great way to remove mold and mildew from various surfaces.
First, you need to mix the vodka with water in a spray bottle. Then, spray the mixture on the surface that has mold and mildew.
Leave it for 10 minutes before wiping or scrubbing it off with a sponge or cloth.
Run your can opener over wax paper
You can also use wax paper to clean your can opener.
Run your can opener over one edge of the wax paper, and you'll see food residue and debris get out of the can opener. At the same time, it will lubricate your can opener due to the wax.
Remove water stains from wood furniture using mayo
Mayonnaise is an excellent tool for removing water stains from wood furniture. It is an affordable and effective way to remove water stains without harming the furniture.
There are many ways to remove water stains from wood furniture, but they all require elbow grease.
How does it work? The oil in the mayonnaise helps break down the water stain and emulsifies it, making it easier to wipe off with a dry cloth or paper towel.
It's essential to use creamy mayonnaise and not a low-fat variety. That's because low-fat mayo will just spread the stain around without removing it.
Remove hair on carpet using a squeegee
A squeegee is a device that is used for cleaning windows and mirrors. It has a rubber blade mounted on a handle and can be pulled or pushed across the object's surface being cleaned.
You can also use a squeegee to rid your carpets, upholstery, and clothing of fallen hair. To do so, one needs to apply pressure with the blade to create enough friction between the carpet and the rubber blade to pull out any hairs embedded in it.
These home cleaning hacks will help you cleverly sanitize and clean your home using easy-to-access household items. Try these out for yourself when you need easy fixes for specific household cleaning remedies, and your home will be a sparkling palace after.
About the Author:
Jacky Xu is the Chief Operating Officer at Maid Sailors. Maid Sailors takes pride in providing
unparalleled cleaning services at affordable prices and will help transform your house into a home.