Ever since the beginning of the coronavirus outbreak, many have been feeling a new form of pandemic-related stress, on top of the everyday pressure they already experience in their personal and professional lives. Apart from disrupting our daily routines, the uncertainty of the pandemic has also forced us to worry about our health and well-being, as well as the economy, leading to additional anxiety and accumulated stress. But even though the situation might be difficult to handle, relieving the built-up stress during the COVID-19 pandemic is still possible with these efficient methods:
Focus on proper nutrition
While it's a well-known fact that proper, healthy nutrition aids in boosting immunity, maintaining a healthy weight, and encouraging optimal digestive functions, not many people are aware that eating healthy could also reduce stress and improve the mood by helping to balance your hormones.
If you want to improve your nutrition, focusing on a healthy and balanced diet is key. Besides including more colorful fruits and vegetables into every meal, this also means increasing your protein intake through meat, eggs, and nuts, focusing on fiber-rich foods like whole grains and beans, choosing unsaturated fats found in fish and seeds, as well as drinking plenty of fluids throughout the day.
Prioritize restful sleep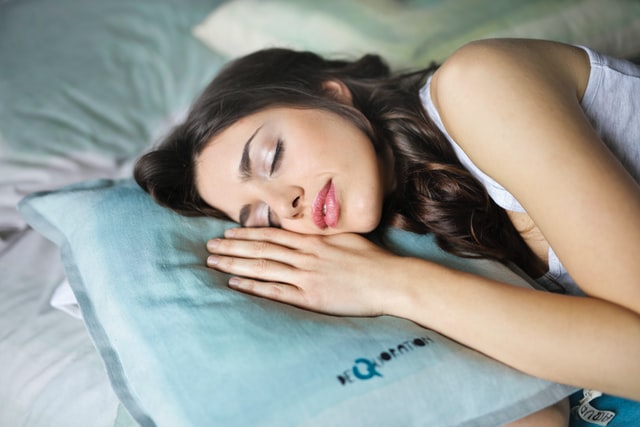 Although often overlooked, sleep is incredibly important for our physical and mental health. Apart from reducing stress and allowing your body to rest and repair itself, quality sleep can also improve your memory and make you more focused and alert, thus being quite beneficial for your overall health.
To that end, aim to get between seven and nine hours of restful, uninterrupted sleep each night. In case you're having trouble falling asleep due to pandemic anxiety, limiting daytime naps, avoiding alcohol and caffeine, as well as creating a dark, cool, and calm bedroom environment can all aid in improving your nightly sleep.
Construct an exercise routine
Helping to lift the mood, improve sleep, control weight, and even combat certain health conditions and diseases, regular physical activity is arguably one of the most efficient ways to reduce stress levels. However, if you are unable to visit gyms and fitness centers during the pandemic, and are forced to work out at home, adhering to an exercise routine can be quite a difficult task.
For that reason, many experts recommend simply finding activities you truly enjoy. Whether that means going on morning runs, frequent bike rides, doing pilates at home, or even dancing in your living room, doing what you love will give you more motivation to continue exercising.
Invest in massage tools
Whether you are working from home, slouching over your desk for hours, or even stressing about the current global situation, the built-up tension you feel doesn't only affect your mental health but could accumulate in your body as well. In an effort to relax, unwind, and relieve some of this stress, frequent massages could be a wonderful option.
To that end, it might be a good idea to invest in high-quality massage devices that are efficient at reducing tension yet simple and practical enough to use at home. From eye massagers that help to treat tired and strained eyes caused by prolonged work in front of a screen, to handheld gun massagers that can target any muscle in an effort to relieve tension and pain, massage devices are truly some of the best stress-reducing tools your could use during the pandemic.
Give meditation a try
Even though it's a spiritual practice, anxiety relief and stress reduction are among the main reasons people try meditation nowadays. By calming your mind and allowing you to focus on the moment, meditation has been shown to not only promote relaxation and reduce stress but also improve certain stress-related symptoms.
If you want to give mediation a try, simply find a calm and quiet place to sit, and focus on the sensations around you and how they affect your body and mind. Even five to ten minutes of this mindful practice every day could have great benefits for your overall health and well-being.
Create a self-care routine
The COVID-19 pandemic has significantly disrupted our daily routines, forcing us to suddenly change our regular schedules and practices. If this is the case with you as well, simply creating a new self-care routine might do wonders for relaxation and stress relief.
Whether that means eating well and exercising, spending time in nature, taking a break from electronics, starting a gratitude journal, reading a good book in silence, or simply enjoying an indulgent bubble bath, self-care allows us to slow down and enjoy the present moment, giving us the opportunity to handle everyday stressors in a more effective way.
Solitaire Bliss is also an excellent way to relax and relieve stress and anxiety. You can choose an activity to stimulate your brain among our 36 free-online versions of strategic games.
Emphasize positive thinking
When we are constantly worrying about the pandemic and the state of the world, our thoughts will naturally dwell on the negative side. And while such a reaction might be natural, negative thinking only leads to more accumulated stress that could have a detrimental effect on your physical and mental health.
Instead of being anxious about the things you can't change, your goal should be to think more positively and look optimistically at things that are in your control. No matter how simple, try to focus on the things you can do at this very moment to be happier and more productive, in an effort to strive for a better tomorrow.
The coronavirus outbreak has impacted our lives in a number of unexpected ways, leading us to constantly worry about our health and well-being. Fortunately, pandemic-related stress can easily be relieved, as long as you adhere to some of the beneficial practices mentioned above.