Renovating and updating the style of your home is always a thrilling and amazing experience where you can show your style and make a few changes. In the last decade, people started paying more attention to the environment and sustainability, and eco-friendly style is now a huge part of most renovations. Just like any other room in the house, a dining room can also be sustainable which doesn't mean you'll have to lower your expectations when it comes to the design and appearance. Beautiful natural materials are a great addition to any home, regardless of the style in other parts of your home.
Lighting
This is one of the most important things that need to be done right at the start of the renovation process. If you want to make sure your new dining room is properly lit, you need to think about, all the space that needs light, so you can make changes before doing anything else.
Of course, the table should be the center of the room so this is where you'll want to add the most light. Many modern wood chandeliers could also be combined with natural materials such as metal and glass to add more style. Use LED bulbs to make sure you're paying attention to the sustainability factor, but also to create a nice and soft light in this room.
Natural materials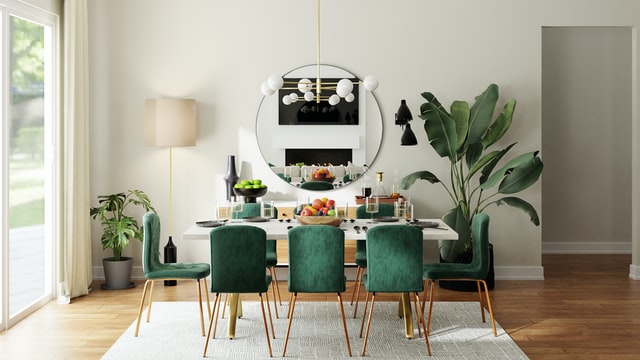 Anything from a rug to different types of tapestry or a macrame wall hanging can be made from sustainable materials to keep the eco-friendly vibe going. No matter what style you have in your home, there are many ways to use these items to boost the aesthetics of your dining room.
When it comes to boho and vintage interiors, a nice macrame wall hanging on a piece of a branch could be a nice way to decorate your walls and add an interesting piece to the overall design. In addition to that, you can always use a rug made from jute or any other sustainable material that's easy to clean and maintain but still looks amazing.
Dining room furniture
Furniture is the center of the dining room and when it comes to finding the best option, going for a durable wood set is the safest way to go if you want to have a dining room that lasts for decades and decades. Many homeowners value the art of handcrafted pieces which is why they opt for timeless Amish dining room furniture that's known for being the perfect balance between design and comfort.
This will allow you to create a special place where you'll be able to host dinners, enjoy meals with your family and always have that special piece of furniture that's long-lasting and visually appealing.
Accessories and additions
Whether you're using your dining room every single day or not, you need to add accessories and things you can use for your meals. When searching for different things to boost the appeal of your dining room, make sure to always find items made from sustainable materials.
Candles, vases, plates, and different types of glasses are the most common items people keep in their dining room built-ins so make sure they're all made from durable and eco-friendly materials. From different types of wood, stone, and glass to fabrics that will follow that same style, there are many options to choose from, so be as creative as you want.
Flooring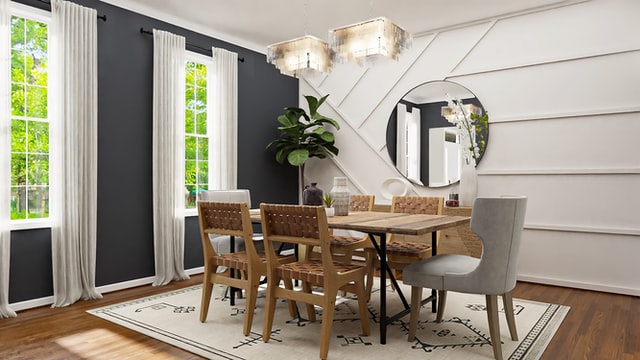 There are two types of people when it comes to, choosing floors for the dining room – those who like carpets and those who prefer hardwood. The first group likes to have carpets to keep the same style they have in other parts of their home.
On the other hand, these can be hard to clean and maintain, so hardwood floors are usually a safer option. You have a lot of natural materials to choose from – from bamboo to natural wood that's a bit more expensive, but also a great investment for any space you're renovating.
If you take some time to plan, you can create a welcoming dining room that's also sustainable and can become a great place for creating new memories. Just because you want to take care of the environment doesn't mean you should give up the modern and sophisticated interior, so use these ideas and start turning them into reality!