Since your environment can greatly affect your state of mind and general productivity, you must design an office that will boost your efficiency and inspire you to work. Whether you're designing a home office, redecorating your office in a commercial building, or creating a space for your employees, there are common design elements that will enable you to stay at the top of your game during your working hours. This is more important if you have the environment in mind and want to create an eco-friendly office that will make you more sustainable than ever.
An inspiring view
Sitting in a cubicle and being surrounded by grey walls is certainly not inspiring and motivating. It has been shown that having a nice view of the outside is positively linked to better and faster work performance. Therefore, you should find a way to add natural elements that are sustainable and can help you create a nice and pleasant view. Add a few plants that will boost the quality of the air around you and freshen up the space. In addition to that, you can always add some Himalayan salt lamps that will create a nice atmosphere and lighten up the place.
The right temperature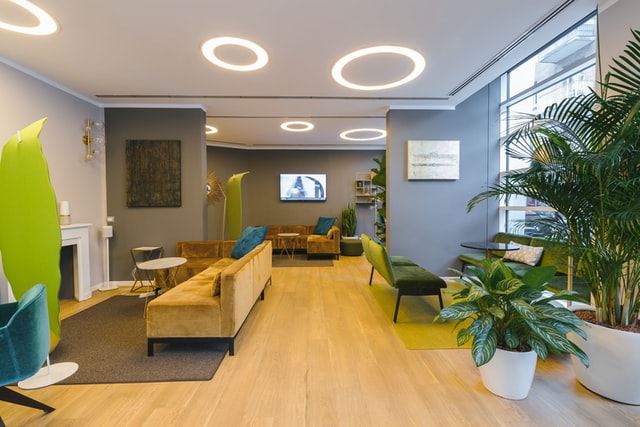 Finding the right temperature for your office space is a simple yet effective way to improve workplace efficiency. While it's not a crucial factor, the right temperature will ensure that you feel comfortable, which will eventually contribute to your productivity. On the other hand, if you're too cold or too hot, you'll feel uncomfortable, constantly fidgeting in your chair and unable to focus on your work, so start figuring out the right temperature right now.
Good internet connection
Having a stable internet connection is crucial and there are several things you need to consider when creating a network for your business. The most important one is to have everything secured and all have all the wires placed correctly so you don't damage them. One of the best ways to achieve that is by opting for a proper internet ADSL connection that will allow you to work without worrying about your safety both online and offline.
Minimalist décor
Minimalism is one of the most popular interior styles for office designs because it emphasizes simplicity and allows you to focus more on adding sustainable elements rather than too many details. By opting for this style, you'll be able to design a clutter-free office space without unnecessary distractions. Use materials like wood and natural stone to keep that eco-friendly vibe and create a welcoming office. From designing your office desk and storage space to creating an eco-friendly lounge space to enjoy your coffee break, you can always opt for natural elements and create a balance between style and sustainability.
Indoor plants
Not only will indoor plants liven up your office space by introducing pops of green, but they will also increase your workplace efficiency. Namely, it has been shown that plants can significantly boost office productivity by making the space more enjoyable and airy. In addition, as natural purifiers, plants will eliminate toxins and increase the indoor air quality, which is particularly important in an office space where stale air can reduce your productivity.
Appropriate lighting
Lighting is one of the crucial elements that can significantly boost your efficiency because working in dark and gloomy spaces can strain your eyes and cause headaches, which will affect your performance. On the other hand, having plenty of light will completely transform your office, set a more positive mood, and bring about better results. You should maximize the amount of natural light that your office gets by removing dark curtains, for example. Artificial lighting is also important, so you should consider installing bright LED fixtures because they give out a clear, white glow closest to the natural light. Not only are these fixtures more sustainable and will lower the electricity bills, but you'll also create a place that has nice lighting that is more pleasant for your eyes.
Designing a functional, comfortable office is crucial for your general efficiency. By embracing simple changes, such as better lighting, improved air quality, and a functional layout, you'll be able to create an office that will significantly improve your job performance.