For those who prefer to practice hair removal, finding the best option can be a challenge. With eco-consciousness on everyone's mind, many people are trying to embrace the zero waste movement and do their part to reduce their carbon footprint.
With disposable razors and chemical-rich products, finding an effective hair removal option that doesn't negatively impact the environment takes some consideration. Here are some simple, eco-friendly hair removal options to try for yourself.
Use a Home Laser Hair Removal Device
Permanent laser hair removal in an overpriced studio isn't an option for everyone. Fortunately, you can get a high-quality laser hair removal product to take care of the process at home. This option is eco-friendly as the results are long-lasting, and you won't be burning through single or short-term use products.
Products like the BoSidin hair removal device are adjustable to react appropriately to the skin type on different areas of your body— i.e., your bikini line versus your legs. Swapping to a hair removal device from a razor also helps prevent in-grown hairs and unsightly bumps.
This eco-friendly hair removal option will pay for itself over time, as you'll no longer need replacement razor blades and handles.
Swap Shaving Cream for Chemical-Free Lotion
Most consumer brands of shaving cream have tons of chemicals that irritate the environment and your skin. In addition to artificial dyes and perfumes, shaving cream also tends to contain:
Glycols that have skin-drying effects
Butylated hydroxytoluene (BHT), which is linked to hormonal disruption and other issues
Polytetrafluoroethylene, which is linked to breast cancer
Sulfates that cause skin irritation
In other words, many shaving cream brands are bad all around. If you decide that using a razor is the best option for you, swap to a chemical-free, organic shaving cream alternative. You can also make your own by whipping shea butter and coconut oil.
Go Electric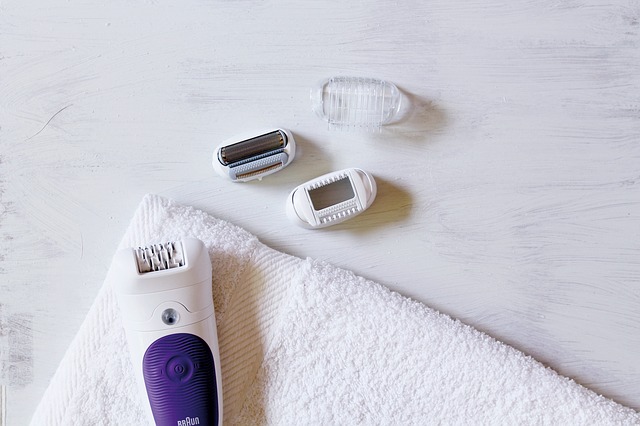 While electric razors sometimes require replacement parts and consume energy, they have a longer lifespan than disposable razors. This means your electric razor is less likely to end up in the landfill than your disposable blades.
When purchasing an electric razor, buy for quality. It's better to invest more to purchase a reputable, high-quality razor that won't burn out in a year. It's also worth trying to recycle your electric razor when it eventually fails. Many local recycling programs accept electronics. Alternatively, programs like Earth911 accept electric razors.
Swap Hair Removal Cream for Amber Gel
If you've ever opened a bottle of hair removal cream, you've likely been assaulted by the pungent smell of chemicals. Most environmental beauty gurus agree that any other option is more eco-friendly than hair removal cream.
Amber gel is one such option. This hair removal gel works similarly to sugar waxing. To use it, you spread it on the area where you want hair removed, let it dry and harden, then peel off like wax. Amber gel works on both thick, dense hair and light, soft hair, making it accessible and eco-friendly.
Try Epilation
Epilation is a hybrid between an electric razor and tweezing. These devices roll over the area, grab hairs, and pull them out. While many users report a brief, mild pain similar to tweezing, epilation is not as bad as you'd expect based on what the device is doing.
Like an electric razor, epilation devices use a minimal amount of energy and have a long lifespan. When your epilation device wears out, you can recycle it the same way as an electric razor.
With these simple swaps, you can practice eco-friendly hair removal and mitigate your impact on the environment. Hair removal is a personal choice, but sustainability affects us all.