When a kitchen looks attractive, it could make you want to stay inside or stick around even when there's probably nothing much to do. A bright-looking kitchen can also make you want to cook almost every time. To create such an environment, you can implement inspiring kitchen decorating ideas. If you have been looking to create magic in your kitchen but never got the correct elements, your answer is right here. Below are the top five (5) Kitchen Décor Ideas you can put together to achieve the perfect and exotic modern kitchen you ever desired.
Using Educative Wall Pictures

Using educative wall pictures is one of the best ways to beautify your kitchen. It could be a weekly frame or quote that displays fruits' benefits, why they should eat fruit before breakfast, the suitable meat for a particular age, and so on. 

It beautifies and as well, increases anyone's appetite towards a specific meal, including fruits. It can even be a drink.
Beautifully Painted Bold Colors

As much as we adorn ourselves with beautiful colors, painting your kitchen with two or more mixed colors is often appealing. Also, ensure you choose mature colors. 

You may ask, what role do mature colors play in my kitchen design? For modern kitchens, color maturity is crucial. It helps you to blend your colors well. You may want to pay attention to prevent you from going off-board. Immature or non-blended colors may result in a shrine, or playground, instead of the modern kitchen you intended.
Fresh Fruit or Farm Produce Displays
Using wooden or metal-like materials to build a basket that keeps fruits around the kitchen wall also beautifies the kitchen. It inspires a taste for fresh foods.
Another alternative instead of a basket is a fruit wall decor i.e., a well-built cabinet with a transparent glass door that displays different kinds of fruit at a time.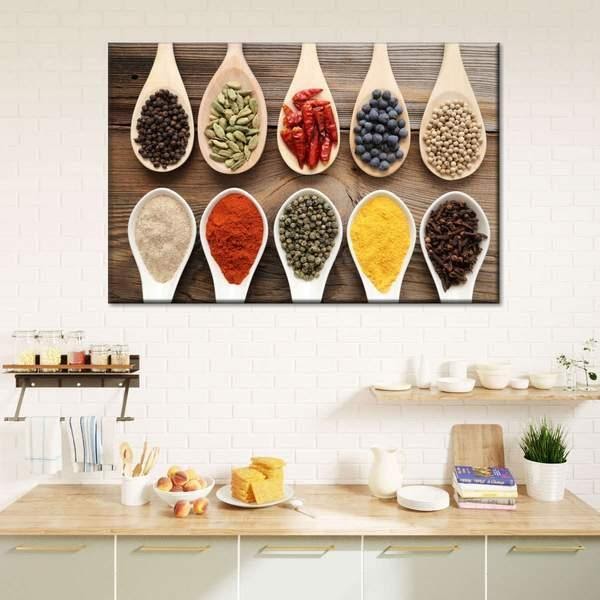 Fashionable Wall Hanger
Using a wall hanger is another way to give your kitchen the beautiful look. On these hangers, you can neatly arrange your culinary tools. Hence, it creates orderliness in your kitchen and ensures you do not throw objects around lazily. 
One of the major principles of a modern kitchen is orderliness, and a fashionable wall hanger would help you accomplish this.
Lightening and Flower Arrangement
Lastly, your kitchen lights and flowers depict the kind of kitchen you are creating. Many of us would love to see lots of flowers around, but a modern kitchen requires less than we may desire. In the long run, you did appreciate a calmer look with lesser flowers. Also, place the flowers strategically, and avoid lengthy plants.
Your kitchen lights are as important as your flower arrangement. Green and gold lights with brass pendant and marble table is a perfect combo!
Summary
Modern kitchen decoration works best with the right combination of elements. Whether you prefer an all-white or pop of color design, let it blend with other furniture in the kitchen. This list is incomplete without recommending you go for a monochrome design all through or choose a blend of bold colors. You can also discover more kitchen décor ideas here.