Introduction
Roller skating is not only a fun activity for kids, but it's also a great form of exercise and helps develop balance, coordination, and confidence. Picking the right pair of kids' roller skates can make all the difference in ensuring a positive and enjoyable experience for your child. But with so many options out there, how do you know which one to choose? This comprehensive guide will cover everything you need to know about kids roller skates, from sizing and types to the best roller skates on the market.
Why should kids roller skate?
Roller skating for kids provides many benefits, including:
– Physical fitness: Roller skating is a fun way for kids to stay active and burn off energy. It helps develop strong muscles, flexibility, and good cardiovascular health.
– Balance and coordination: Roller skating requires kids to coordinate both their upper and lower body movements, therefore improving their overall balance and coordination.
– Social interaction: Roller rinks and parks provide a great space for kids to interact and make new friends while sharing a common interest.
Types of kids roller skates
Let's explore the different types of kids roller skates available:
1. Quad skates: Quad skates feature four wheels arranged in a rectangular pattern, providing more stability and a lower center of gravity. These skates are perfect for beginners and are used in traditional roller rinks.

2. Inline skates: Kids' inline skates have four or five wheels in a straight line, making them faster and more maneuverable. Also known as rollerblades, these skates are better suited for outdoor skating and urban environments but may require a higher skill level.

3. Adjustable skates: These roller skates offer adjustable sizing, allowing them to grow with your child and saving you money on replacing them as your child grows.
Sizing and fitting kids roller skates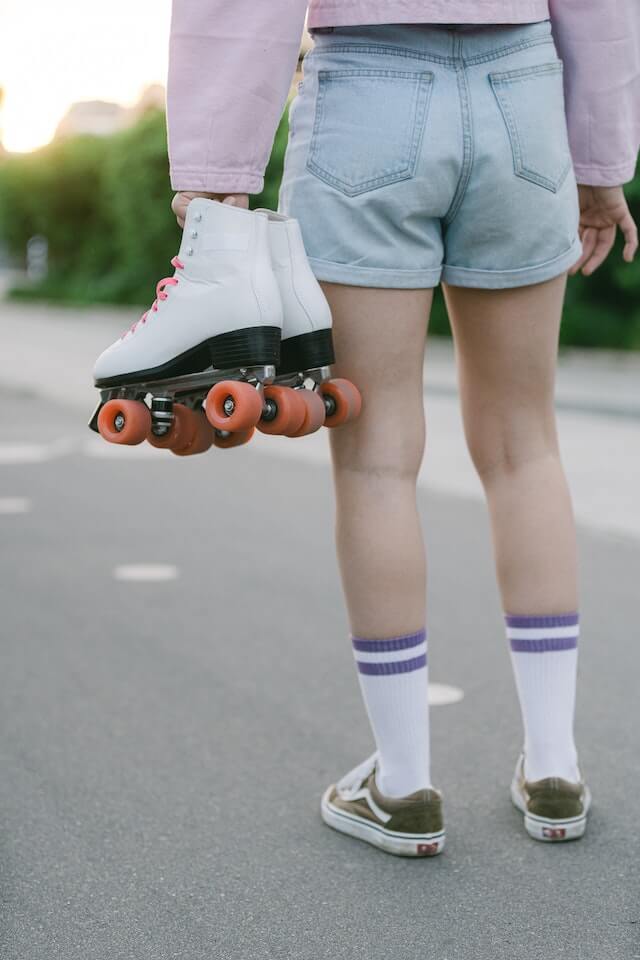 Finding the right size roller skate is crucial for your child's comfort and safety. Here are some tips on sizing and fitting:

– Measure your child's foot length and compare it to the manufacturer's sizing chart.
– Consider the width of your child's feet, as some skates come in different options.
– A well-fitted skate should be snug, but not too tight or uncomfortable. Your child should be able to wiggle their toes and have room to grow.
– A properly fitted skate will provide ankle support, reducing the risk of injury.
Features to consider when choosing kids roller skates
When selecting roller skates for your child, keep the following features in mind:
1. Wheels: Softer wheels provide better grip and shock absorption, making them ideal for indoor skating. Harder wheels offer more speed and durability, perfect for outdoor skating.

2. Bearings: The quality of bearings in skates affects their speed and smoothness. Look for skates with ABEC-rated bearings, with higher numbers indicating better performance.

3. Closure system: Consider the type of closure system for your child's skates. Laces, Velcro straps, and buckle systems all offer varying levels of support and ease of use.

4. Safety gear: Don't forget to invest in appropriate safety gear for your child, including a helmet, wrist guards, elbow pads, and knee pads.
How to maintain and care for roller skates
With proper maintenance, kids roller skates can last for years. Here's how to keep them in top condition:

1. Clean the wheels regularly to remove dirt and debris that can slow the skates and cause unnecessary wear.
2. Check the wheels and bearings for signs of wear, replacing them as needed.
3. Tighten bolts and other hardware regularly to ensure the skates remain secure and safe.
Top 5 best kids roller skates on the market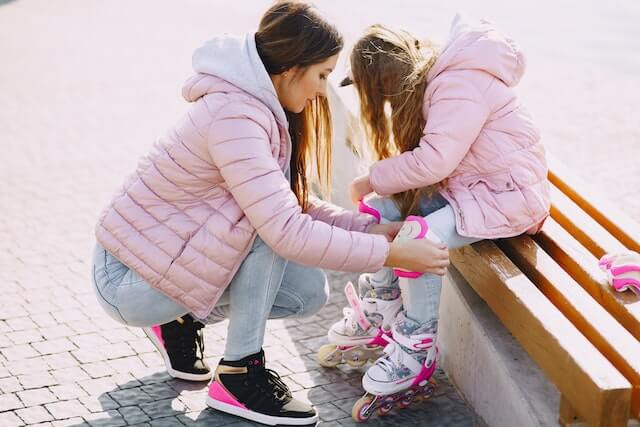 1. Chicago Kids Adjustable Quad Roller Skates: These adjustable skates are perfect for growing kids, offering a comfortable fit and great support.
2. Roller Derby Trac Star Youth Girl's Adjustable Roller Skates: Featuring a unique push-button adjustment system, these quad skates offer a custom fit for your child.
3. Rollerblade Microblade Kids Inline Skates: These inline skates are designed to help kids learn proper skating techniques and build confidence on wheels.
4. K2 Raider Kids Inline Skates: With a speed lacing system and comfortable fit, these inline skates make it easy for kids to enjoy a smooth ride.
5. SFR Galaxy Ice Skates: If your child is interested in ice skating, these adjustable skates provide great support and ankle stability for beginners.
Conclusion
Arming yourself with knowledge about kids' roller skates will help you make an informed decision to provide your child with a comfortable and enjoyable skating experience. The right pair of roller skates can set your child up for a lifetime of physical activity and fun. Visit your local skate shop or online retailer to try on different styles and find the best roller skates for your child. Happy skating!