Are you working from home these days? You're not the only one. With many Americans transitioning to a remote work lifestyle, they have been forced to set up shop in their own homes, whether it's at their kitchen tables, corner of the bedroom, or a section of the sofa. If you are one of the lucky ones, you had a spare bedroom to transform into a dedicated home office. But, regardless of your "desk" situation, working from home offers many advantages. One of which is adapting work to a more sustainable lifestyle. 
Want to create a more eco-friendly workspace? From choosing secondhand furniture and energy-efficient computers to cutting back on how many documents you print, here is how to make your home office more sustainable and environmentally conscious.
Minimize Electronic Waste
One of the easiest ways to make your home office more sustainable is by reducing your electronic waste. Electronic waste, also called e-waste, is a growing problem the earth faces, so when it comes to our electronic devices — computers, smartphones, printers, and more — try to recycle them. Many tech companies offer a credit program that incentivizes consumers to bring back their outdated equipment. If not, you can always contact your local recycling center to see if they have an electronic recycling program.
For example, you can save your phone from scratches and shattered screens if you simply secure it with a protective case. But, of course, if you are eliminating plastic in your home office, don't forget to choose a plastic-free compostable phone case that will break down in the soil. Whether it's an AirPods cover or Apple Watch bands to check your messages on the go, choosing an eco-friendly alternative to single-use plastics is far better for the earth.
Decorate with Secondhand Furniture or Vintage Finds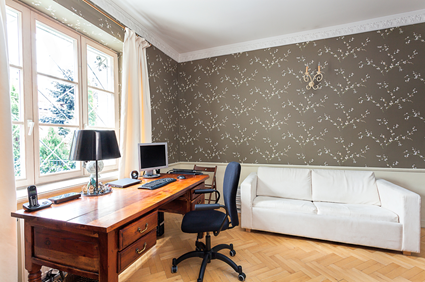 We've all heard of the harmful environmental effects of fast fashion, but what about fast furniture? The Environmental Protection Agency estimates that nine million tons of furniture are thrown away every year. To put things in perspective, this number equates to roughly five percent of the landfill, which is really something compared to food waste and plastic packaging.
So, instead of buying new furniture, save something from winding up at the dump. Whether you buy an office desk from Facebook Marketplace or grab a newish desk lamp from an antique or vintage store, you avoid buying fast furniture, but also minimize your carbon footprint by buying local and reduce packaging waste. Give an outdated-looking piece a facelift with a new coat of paint or reupholster a tattered seat with an on-trend patterned fabric. Decorating your home office with secondhand furniture and items is sure to make it sustainable.
Use Low Waste Office Supplies
Working from home allows you to choose your office supplies, so why not make the most sustainable choices you can. From pens to paper, you can cut down on waste in several ways. For example, instead of buying throwaway pens in bulk, invest in refillable fountain pens that can be used repeatedly. These days, you can also find pens made of recycled and compostable materials made to break down in the soil without leaving behind harmful chemicals.
Try to maintain a paperless home office. Choose to read on-screen whenever possible, printing documents only as necessary. Of course, digital files work well for many circumstances, but when you need a simple scrap piece of paper to jot down ideas or your work requires a physical presentation, be sure to use FSC-certified recycled paper notebooks. Get rid of other kinds of plastic office accessories like rubber bands or binder clips.
Select Energy-Efficient Lighting and Electronics
From your PC to your laptop and office lighting, choose a more energy-efficient home office. For starters, you can choose Energy Star-rated computers and electronics that require less power, lowering your home's energy bills and minimizing the fossil fuel dependency. More than this, though, you should make a good habit of turning off your devices when not in use or at the end of the workday.
Aside from needing the energy to print documents, printer cartridges and toners also produce waste and are not recyclable. Since your goal is to print as little as possible, keep the printer unplugged and out of sight, using it only as needed.
Electronics aside, it's also a good idea to reduce the energy your lighting consumes. Replace incandescent bulbs with LEDs and remember to switch off the lights. Drawback the curtains and allow natural sunlight into the room instead. Not to mention, it's also better for your vision and mental health.
Consider Sustainable Lunches and Food Choices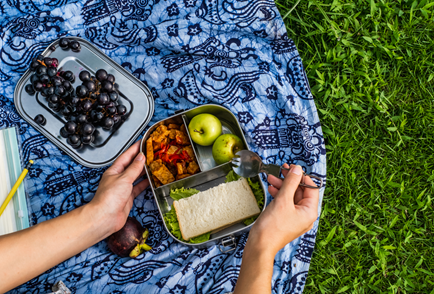 When you take a lunch break, consider more sustainable options and food choices. For example, you can choose to support local cafes and businesses instead of fast-food chains and restaurants. You can also choose to shop for local produce at the Sunday farmer's market to make your lunches for the upcoming week, reducing your carbon footprint.
Eating local is just a start. Another way you can make more sustainable food choices is by stocking your pantry with organic and Fair Trade certified items. For example, if you need coffee every morning, make sure it was harvested ethically and without the help of chemicals and pesticides or has any other genetically modified features. Furthermore, you can help the earth by reducing your meat intake and creating vegetarian or vegan-friendly lunches for yourself.
Create Your Sustainable Home Office Today
Whether you are new to the work-from-home lifestyle or are merely looking for ways to build healthier work habits, these eco-friendly tips should get you started. Start with the basics like reducing your dependence on paper and transition to digital workspaces. Then, when your computer becomes dinosaur-slow, invest in an Energy Star-rated monitor or laptop. Taking steps toward a more sustainable home office, one you work at for a good chunk of the day can significantly impact the environment.